Shokz RoadWave 運動音頻眼鏡
Shokz RoadWave 運動音頻眼鏡
ROADWAVESport Audio Sunglasses
Headphones and Sunglasses,
All-in-one Performance
Bolder and Louder Sound
Design With Wind-Noise
Reduction For Crystal-Clear Calls
Lightweight and Comfortable
Headphones And Sunglasses,
All-In-One Performance
Shokz RoadWave combines the benefits of sport sunglasses and headphones into one powerful product, providing an innovative audio experience when playing sports or exercising. Discover a completely new visual experience.
Shokz DirectPitch™ Technology2

Bolder And Louder Sound With Deeper Bass
Equipped with Shokz DirectPitch™ technology, these sunglasses also feature a low-frequency algorithm and 216mm
2
large-amplitude speakers. Immerse yourself in bolder and louder sound quality, plus deeper bass.
Reduced Sound Leakage
for Private Listening
Keep your playlist private. An optimized design provides sound leakage
3
control so you can enjoy your music without disturbing others.
Wind-Noise Reduction
Enjoy Crystal-Clear Calls At Speeds Of 18 Mph*
Communicate clearly on-road or off. Shokz RoadWave is designed with dual microphones built into the bottom of the V-shaped design to reduce wind interference, making them perfect for cyclists. The hydrodynamic structure reduces the impact of air on the receiving microphone, effectively minimizing wind noise while you ride. Additionally, the dual-microphone system eliminates environmental noise and picks up sounds more clearly as you speak.
*Data source: Outdoor test data from Shokz.
Lightweight And Comfortable
Designed with optimal comfort in mind. Weighing only 42g, the open-ear design allows for extremely comfortable all-day wear. No pinching, no pressure. 
Wraparound Arc Design
Stable With Anti-Slip Grip
Shokz RoadWave's wraparound arc design features customizable silicone nose pads and silicone segments at the temples, offering a secured fit for various face shapes and sizes. Enjoy the anti-slip grip around the temples and nose pad for increased stability and elevated performance.
IP54 Water-Resistance
Designed For Durability
Fortified with IP54 water-resistant protection and speakers designed with waterproof acoustic mesh, Shokz RoadWave helps to repel water, sweat, and dust.
Powered For Performance
Keep The Music Going On
Long Rides

Enjoy long rides without your music being interrupted or needing to stop and recharge. Shokz RoadWave delivers up to 6 hours of continuous playtime on a full charge. The quick charge feature allows for up to 1 hour of power in just 10 minutes, so you can hit the road in a flash!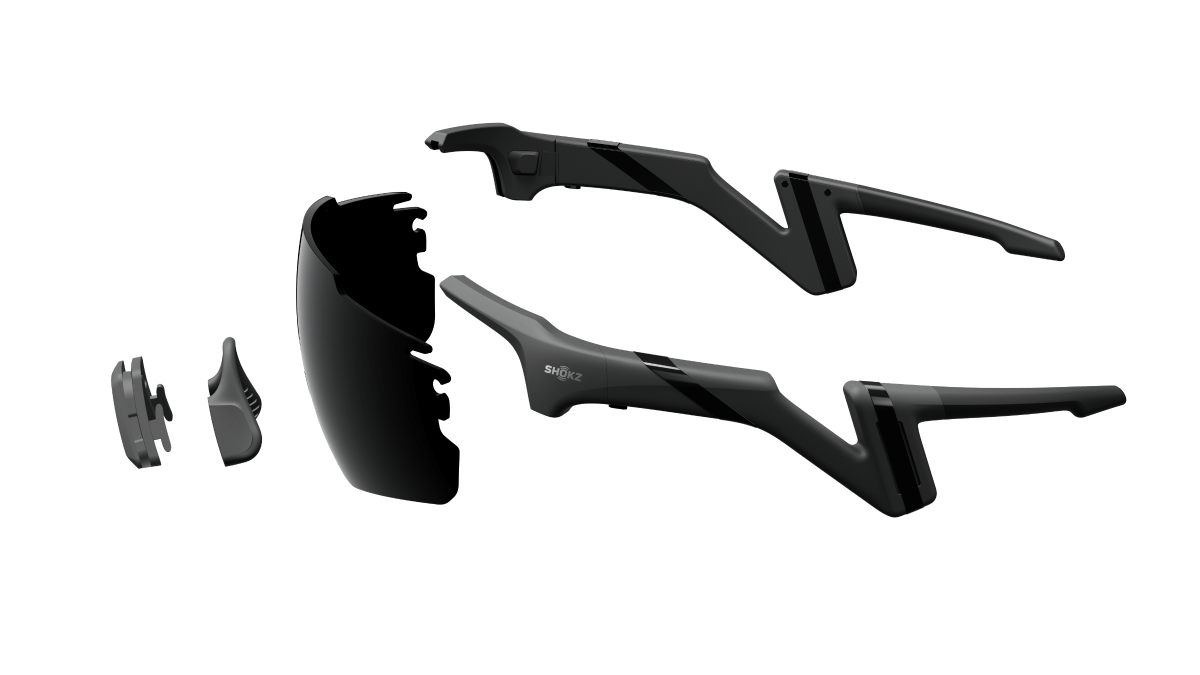 What's In The Box
Shokz RoadWave




Dark polarized lenses & transparent lenses




Two silicone nose pads of different sizes




Magnetic charging cable




Hard shell sunglasses case 




Soft pouch



Specification: 
Charge Time
: 
1 hour charge for 6 hours usage
Quick Charge
: 
A 10-min charge for 1 hour usage
Charging
: 
Magnetic Induction
Microphone
: 
Dual Noise Cancelling Microphone