Creative T100 Compact Hi-Fi 2.0 Desktop Speakers/ 電腦喇叭
Creative T100 Compact Hi-Fi 2.0 Desktop Speakers/ 電腦喇叭
OVERVIEW
It's been awhile! Our latest addition to the widely-acclaimed T20 and T40 series is finally here.
Introducing Creative T100:
Enhance your Workspace
Elegant, minimalistic design for your desktop computers and laptops
Plug-And-Play Setup
Easy setup within minutes with various connectivity options, including wireless Bluetooth® 5.0, 3.5 mm AUX-in, Optical-in, and USB FLAC!
Superb Audio Quality
Wide, lifelike soundstage with incredible depth, balanced audio, and amazing vocal clarity
Powerful Acoustics
2.75″ full-range driver with built-in digital amplifier that fires up to 40W RMS and peak power of up to 80W
BasXPort™ Technology
Further enhances the bass to reproduce rich, deep tones without a need for subwoofer
Convenient Controls
Wireless remote control with EQ presets and adjustable bass and treble settings
A Minimalist's Dream
Creative T100 makes the perfect set of desktop speakers. For a minimalist, your desktop's real estate is precious. The Creative T100s are designed to sit elegantly on each side of your computer or laptop. The best part? The audio quality is amazing.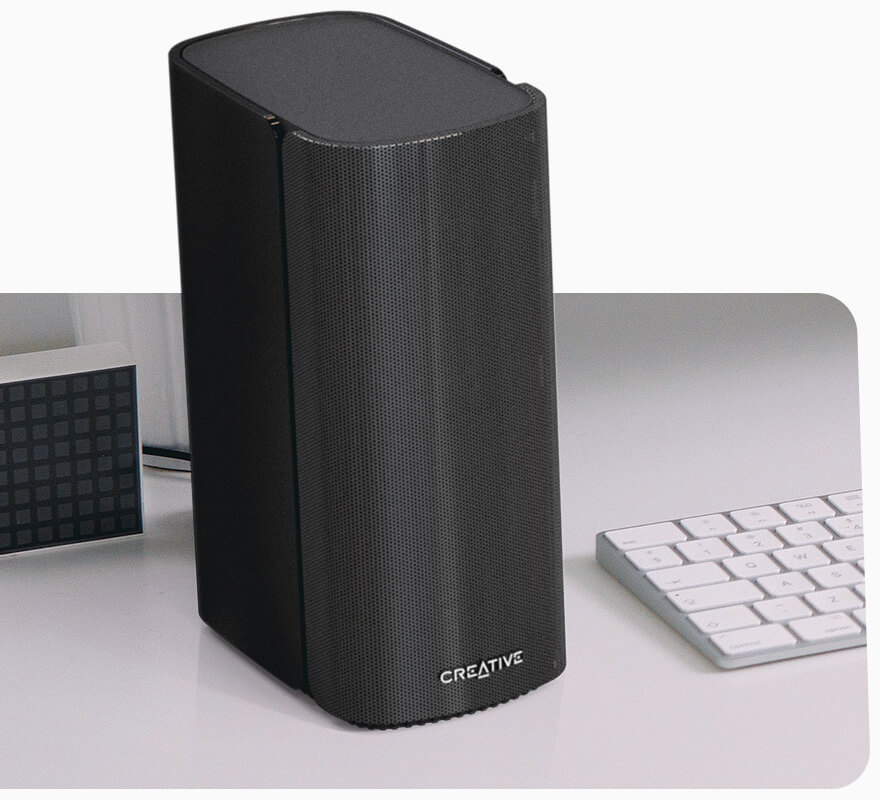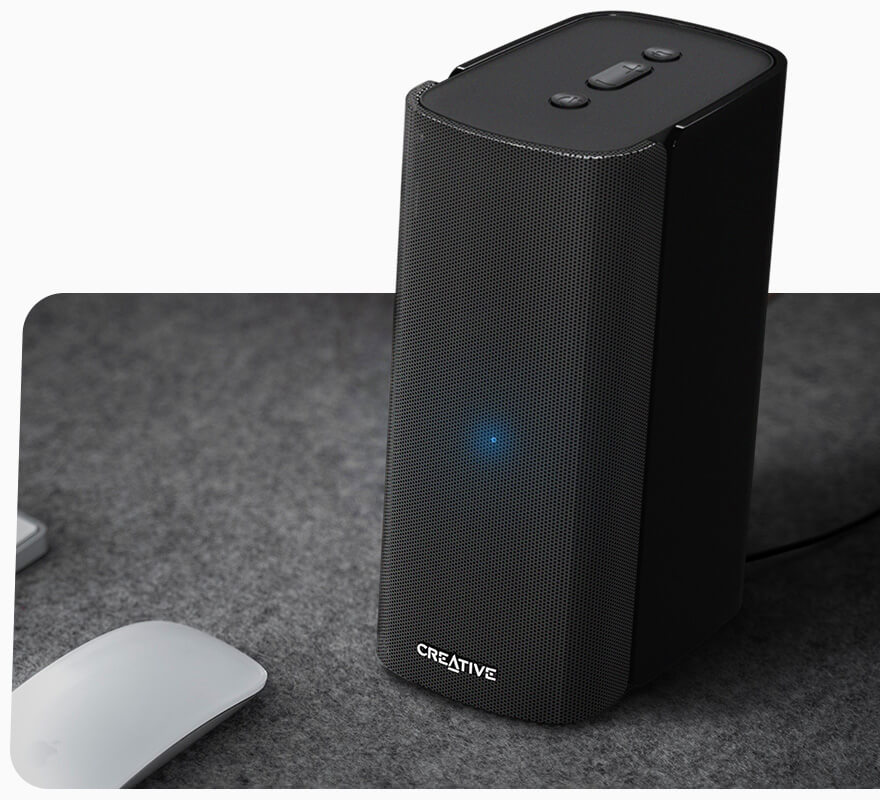 CONNECTIVITY
Plug-and-Play Setup
Setup is extremely straightforward. Simply plug in the AC adapter, choose from a plethora of connectivity options, and voila — you're set to enjoy your audio within minutes!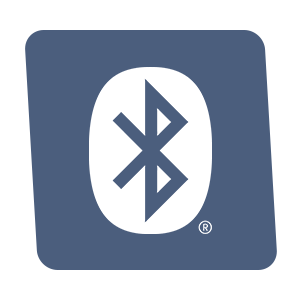 Wireless Bluetooth® 5.0
Stream directly from your mobile devices to Bluetooth for effortless audio streaming.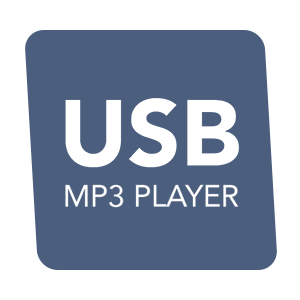 USB FLAC
Play hi-res lossless songs directly from USB flash drives1. T100 supports FLAC, WAV, and MP3 audio formats.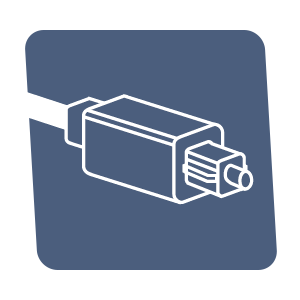 Optical-in
You can even enjoy high-quality digital audio on T100 when connected to PS4. All you have to do is to connect the two devices with a single cable2 and you are set.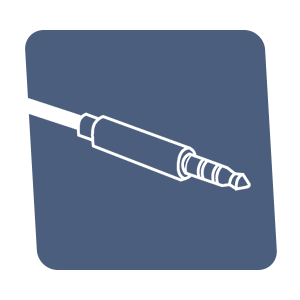 AUX-in
For analogue audio devices, connect via a standard 3.5 mm AUX-in port.
Bluetooth Mode - Speakers Mute Issue
Your Creative T100 may come shipped with an issue which causes the volume to be muted when the Creative T100 wakes up from standby mode over Bluetooth. To resolve this behavior, simply follow these instructions.
If you need any assistance, do contact us at creative.com/contactus.
AUDIO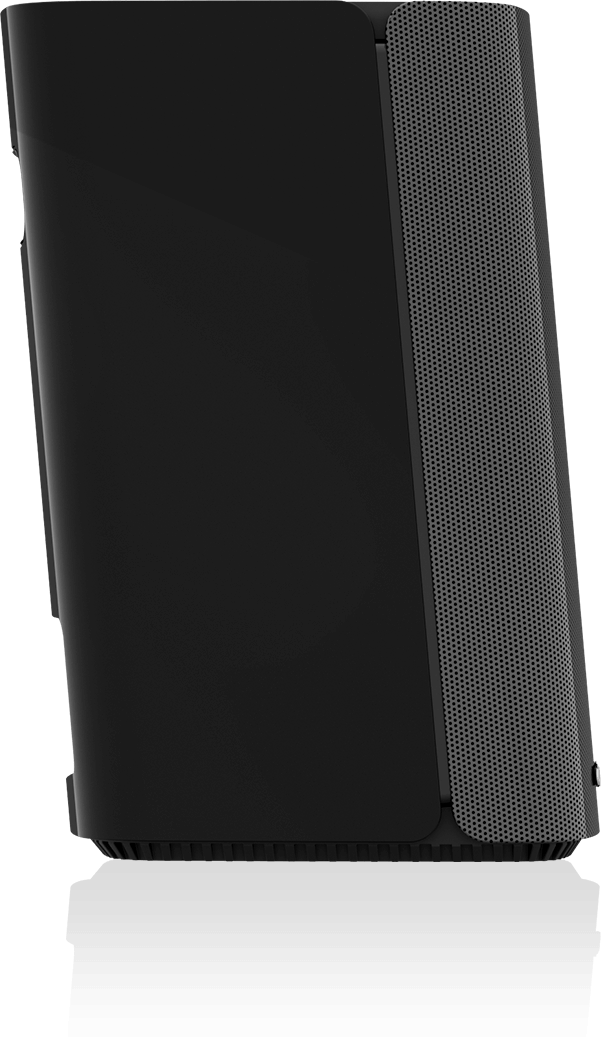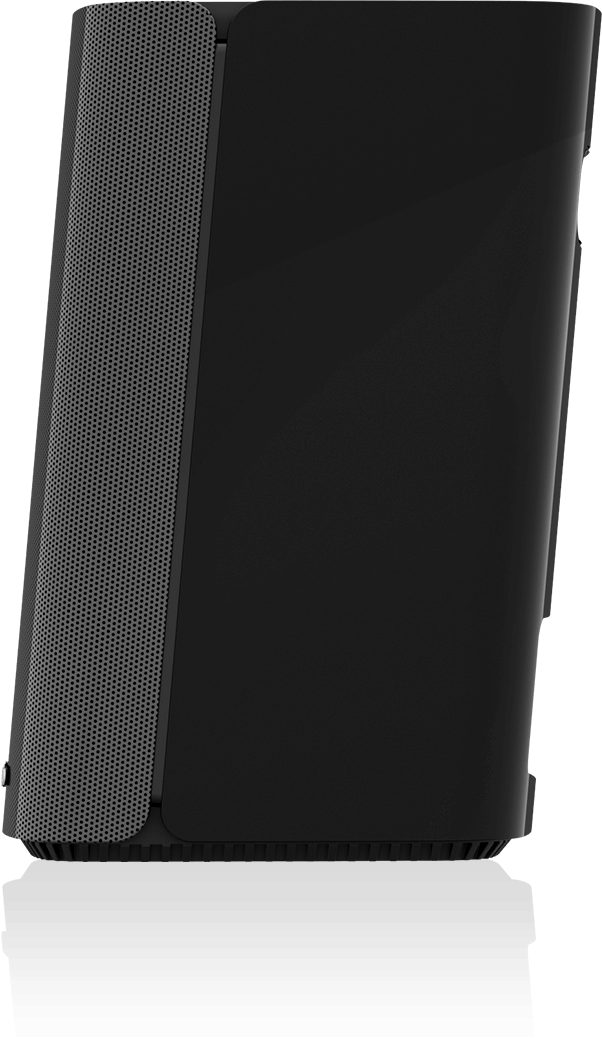 Step Up Your Audio
Consider this your well-deserved step-up from your computer and laptop audio. We've spent countless man (and ear) hours on its acoustics profile to achieve a wide and lifelike soundstage with an incredible depth that goes beyond the actual speakers.
Powerful Acoustics
Have we mentioned that it's powerful? For a 2.0 sound system, this one really takes the cake. Firing acoustics power of up to 40W RMS and coupled with a built-in, high-powered digital amplifier, T100 produces a peak power of up to 80W. In a medium-sized room, that means you can enjoy room-filling, theatrical audio experience at the comfort of your home.
Amazing Audio Clarity
That's not all! We've stuffed even more audio goodies into it — a powerful 2.75″ full-range driver with a 1-driver configuration that handles the entire audio range spectrum to ensure audio consistency. Put simply, this allows the T100 to dish out powerful audio and detailed vocals with amazing clarity. To top it off, our improved BasXPort™ technology enhances the bass further to achieve rich bass tones without the need of a subwoofer.

CONVENIENCE
Enhance Your Smart Audio
You deserve better audio! The T100 is the perfect upgrade to your Echo Dot audio experience — simply connect the T100 to the smart devices via the 3.5 mm cable, and command as you usually would. Adjust volume, listen to your favorite audio book, or select your music on command — all without having to get up from bed.

CONTROLS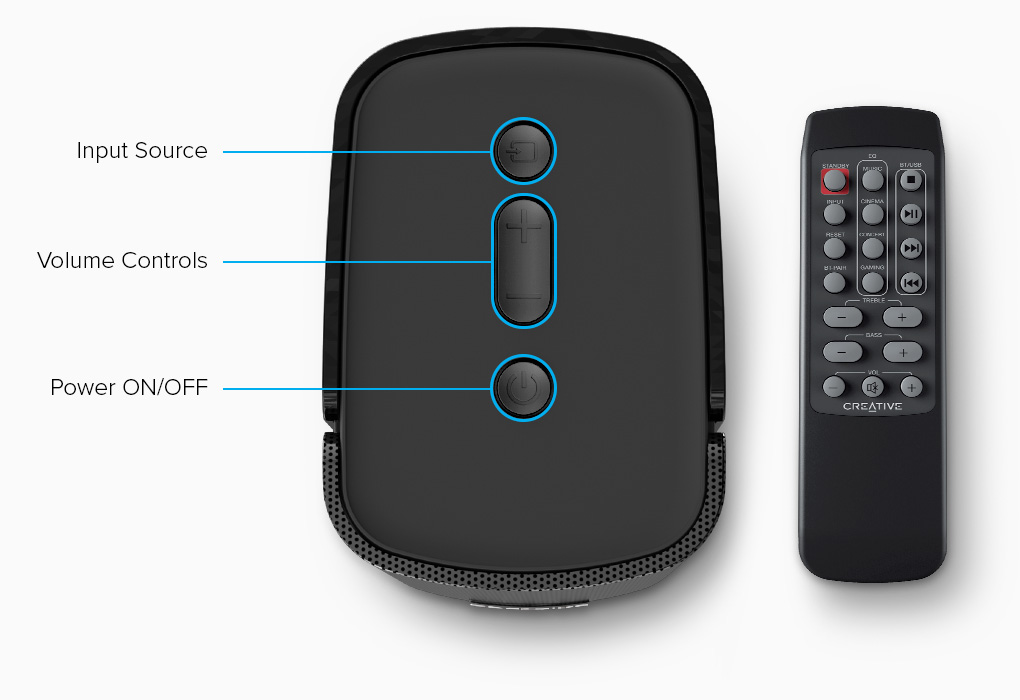 More Audio Control
Further adjust your audio with the included remote control3! Apart from the preset EQ selections for movies, music, concert, and gaming modes, you can also increase and reduce treble and bass settings to your liking.
And with the easy-to-reach buttons located at the top of the right speaker, it is convenience at your fingertips.
1 Compatible with USB mass storage devices of up to 32 GB, FAT32 format.
2 Optical cable is not included.
3 AAA batteries are not included.
COMPLETE WIRELESS FREEDOM WITH CREATIVE BT-W3
Free yourself from wires completely with the Creative BT-W3 (sold separately), an audio transmitter that allows you to enjoy high-quality wireless audio via Bluetooth. Enable wireless listening on devices without Bluetooth audio like your PS5™ and PS4™, or upgrade your current Bluetooth experience on PC, Mac, or Nintendo Switch™ with premium aptX™ codecs.
The Creative BT-W3 supports 4 different audio codecs—aptX LL, aptX HD, aptX, and SBC, and features a handy codec selection function that allows you to tell which codec you're using and switch to the desired codec with ease. Powered by a USB-C connection, the Creative BT-W3 is plug-and-play and requires no additional drivers or batteries!